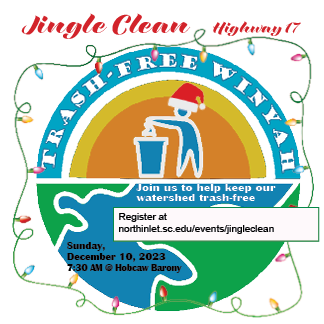 Trash-Free Winyah- Jingle Clean
Road-side trash is carried by wind and rain into our estuaries, where it can harm turtles, birds, fish and habitats. This trash can also end up costing us 100's of thousands of dollars in cleanup and repair of county stormwater systems and public spaces. While the long term solution is to reduce incidental and end intentional littering, we can work together to prevent the trash already in our environment from doing further damage through litter clean-ups.
Trash-Free Winyah is an effort organized by the North Inlet-Winyah Bay National Estuarine Research Reserve, Keep It Green Pawley's Island, and Georgetown County to keep litter our of North Inlet and Winyah Bay by engaging volunteers in clean-ups and data collection. 
Participants in highway clean-ups must be at least 18 years old. Gloves, trash pickers, safety vest and snacks will be provided. We will have safety signage in place and cover safety precautions prior to starting. Participants in marsh-edge clean-ups should be prepared for strenuous walking and muddy conditions.