The North Inlet–Winyah Bay National Estuarine Research Reserve is located in Georgetown, South Carolina. Through research, education, stewardship and training, the Reserve promotes healthy estuaries, watershed preservation, resilient coastal communities, and thriving ecosystems.
Read about the Reserve in our newsletter, the Inlet and Bay Bulletin.
Visit our friends group, the Inlet & Bay Stewards
Hobcaw Barony Discovery Center
Monday through Friday 9 a.m. to 5 p.m.,
Saturday 9 a.m. to 2 p.m.
Free admission, but donations are appreciated.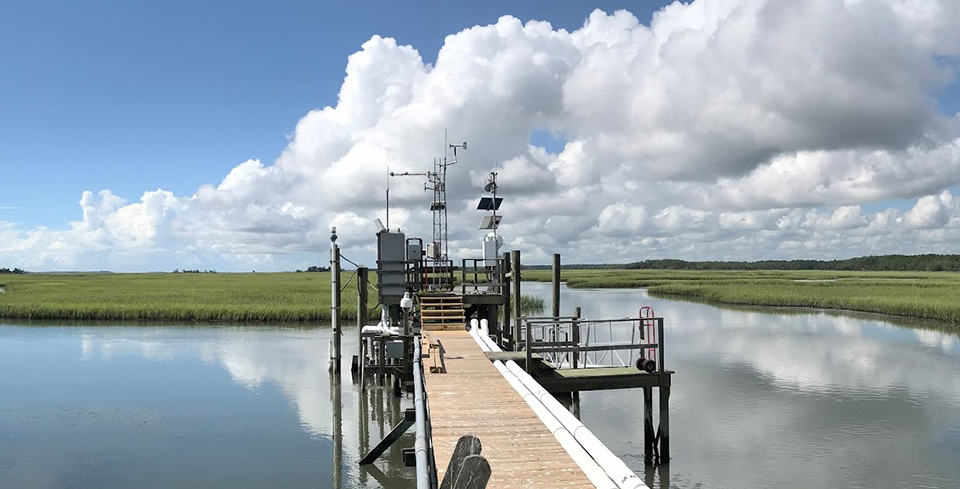 Water Temperature
25.0 °C (77 °F)
Air Temperature
19.9 °C (67 °F)
Wind Speed
0.7 m/Sec (1 mph)

Over the last year, volunteers worked more than 130 hours over four clean-up events that were a partnership of the North Inlet Reserve, Keep it Green Pawleys Island, and Georgetown County. View an interactive…

Storm Stories use Data to Communicate Hurricane Impacts Storm Stories was developed through a NERR Science Collaborative Transfer Grant. The past several years of extreme hurricanes in the southeast highlighted a need to communicate…

Wetlands are a prominent feature on the South Carolina coastal landscape. Wetland is an umbrella term and encompasses many different types of habitat. A tour of local wetland ecosystems might include drifting past cypress-tupelo…