The Winyah Naturalist Program provides training opportunities for community members to develop the skills necessary to become active volunteer stewards of coastal South Carolina habitats. The 12 week course is offered in the spring. Participants meet once a week to explore coastal habitats with local experts, practice identification skills, learn ecological concepts, discuss the natural history and examine human impacts on the environment.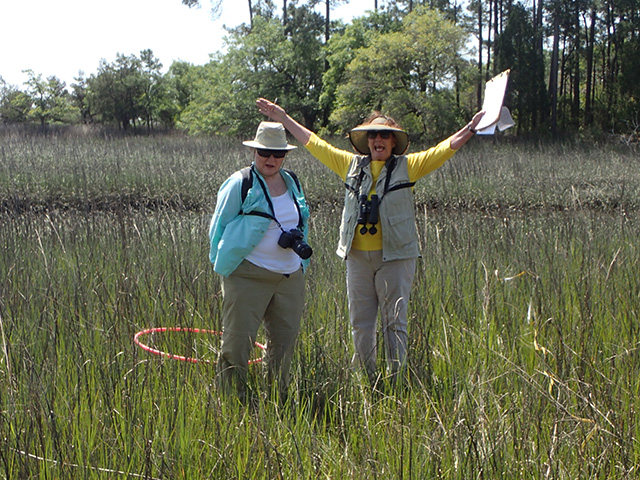 Develop naturalist observation and recording skills.
Understand basic biological and ecological concepts.
Learn to read the natural history of a landscape.
Analyze environmental issues.
Cultivate good environmental stewardship practices.
Explore unique habitats of the South Carolina Coast.
Meet others who share your fascination with the natural world
Winyah Naturalists are certified through the SC Master Naturalist program, a SC Cooperative Extension program administered through the Department of Forestry and Natural Resources of Clemson University in cooperation with various partners around the state. Participants completing the course and 30 hours of approved volunteer work will receive a Master Naturalist certification and will be eligible to join a local chapter and participate in advanced volunteer training courses.
No special equipment is required to participate in the course other than a good pair of shoes that can get wet and muddy.  A backpack, binoculars, and camera are recommended. This is a field-based class that involves some off-trail hiking where there may be a lack of bathroom facilities, and exposure to heat, cold, rain, insects, water, mud and fun.
Spring 2022 Course Information
This year classes will be on Saturdays, starting at 8 AM and ending at 2 PMish. We will be exploring North Inlet, Hobcaw Barony, Huntington Beach, the Black River Cypress Preserve, Francis Marion Nationa Park, and other fascinating local habitats as we develop skills to be stewards of our local habitats. Students will be participating in volunteer and community science projects throughout the class.
*We request all individuals participating in this course be vaccinated against the COVID-19 virus. 
Date
Topics
Location
3/19

Orientation, tools and techniques, ethics  for naturalists, journaling

Hobcaw Barony
3/26
Bird ID basics and practice, nesting tern protection
Huntington Beach State Park
(4/2)
 No class
Guided exploration assignment
 
4/9
Coastal Forests
Hobcaw Barony
(4/16)

No class

SciStarter project

 
4/23

Rivers, botany

Black River Cypress Preserve
4/30
Wetlands
Francis Marion NF
5/7
Estuaries Part 1
North Inlet
5/14
Estuaries Part 2
North Inlet
5/21

Beaches, marine invertebrates

Huntington Beach State Park
5/28
Urban Nature
Georgetwon
6/4
FINAL EXAM
Hobcaw
 
 
 
Upcoming Stewardship Program Events
Sign Up for the latest news and events
Find out what's going on at the Reserve with our monthly e-news letter.
Stewardship Program Pages
Latest Stewardship Program News

We hope you'll join us throughout September! See all the events we have planned.
Read More »
Stewardship Program Contact
Jennifer Plunket
Stewardship Coordinator
843-904-9033
jen@baruch.sc.edu