What provides nesting and feeding habitat for most of the fish and shellfish you like to eat, filters sediments and pollutants from the rivers and streams before they flow into the ocean, and helped to buffer our coastal community from storm surge during Hurricane Dorian?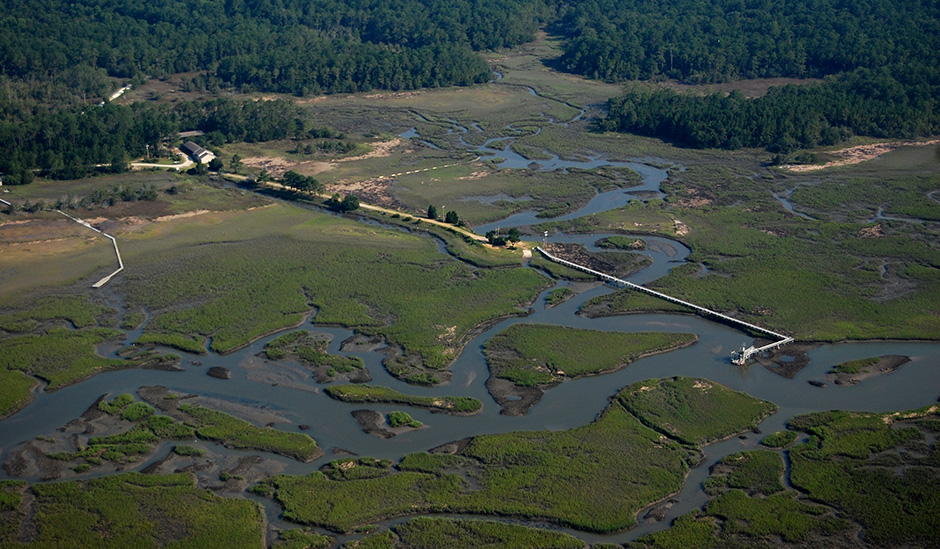 This hard working ecosystem deserves a party! As a part of National Estuaries Week, the North Inlet-Winyah Bay Reserve held an open house at the Hobcaw Barony Discovery Center on Saturday, September 14th, with games, exhibits and tours highlighting one of the earth's most important resources- our estuaries.  Marsh residents, from microscopic plankton to fish in the big tank, were on hand to greet guests. Fish printing and shell art delivered an artistic estuary experience, and face painting, obstacle courses and bubbles provided entertainment for younger guests. We were excited that over 70 guests joined us this year, and we hope to grow our annual celebration in the future.
National Estuaries Week was established in 1988 to bring attention to the National Estuarine Research Reserve System, which encompasses more than 1.3 million acres of public land and waters.  Across the 29 Reserves of the system, there are 26 visitor centers, 889 miles of hiking and paddle trails, and 820 water access points. Reserves provide habitat for 337 species of plants, birds, fish and other wildlife that are rare, endangered, or of concern. Reserves support commercial and recreational fishing, and it is estimated that 60k jobs were sustained (2014-2017) by our estuaries.
The North Inlet-Winyah Bay National Estuarine Research Reserve was designated in 1992 as the 20th Reserve (South Slough in Oregon was the first in 1974; He'eia in Hawaii was the most recent in 2017). It is the 8th largest Reserve in the nation and the 4th largest on the east coast, encompassing 18, 916 acres of tidal marsh, oyster reefs, coastal forest and open water (Kachemak Bay in Alaska is 372,000 acres; Old Woman Creek in Ohio is 573 acres).  The Reserve conducts scientific research and provides education programs needed by South Carolina's coastal counties and the nation to conserve and manage coastal resources. Annually, more than 80 different projects are conducted in the reserve and over 15,000 people visit the Hobcaw Barony Discovery Center each year and participate in educational programs.